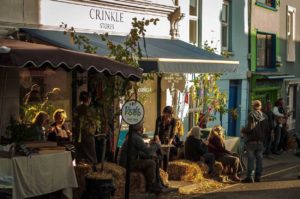 The only tickets required are a book of taste trail tickets to take part in the 'The Taste Trail'.
A book contains 10 tickets, worth €2 each. The cost of the book is €22.50 with €2.50 going towards the successful running of the festival.
They are available from the festival office during the weekend of the festival.
Festival Office Opening hours are:
Friday – 10am – 6pm, Saturday – 10am – 6pm & Sunday 10am – 3pm
Tickets are also available to purchase from the Monday before the festival at various outlets in the town. View Map of ticket sellers
Boatyard Restaurant
John Benny's Pub
Dingle Bay Hotel
Strand House
Garvey's SuperValu
O'Flaherty's Pub
Charthouse Restaurant (not Sunday)
The Coach House
Crinkle Stores
Grey's Lane Bistro
Dingle Bookshop
EBS (not Saturday & Sunday)
McCarthy's Bar
An Gallerai Beag
Dingle Benners Hotel
Paul Geaney's Bar
Lily's Food
O'Sullivan's Courthouse Pub